Another fun 'Goin Country' run
Our day started at Queens Park, Ipswich with lovely sunny weather. Registration got under way with entrants collecting their commemorative mug, and grabbing a complimentary coffee from our deluxe Coffee Van which was with us at all three venues – Ipswich, Peak Crossing & Harrisville.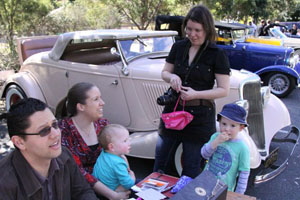 Soon we were off to Peak Crossing State School where Rod Squad had offered to put on a Show & Shine to help the P&C raise funds for their school. Entrants and public from the local area enjoyed tasty cakes and sandwiches from the stalls arranged by the P&C, while viewing the rods and talking to the owners.
Billy tea and damper were waiting for us at Harrisville and the pig was cooking. Lots of fun was had competing on the crosscut saw, wheel changing and a crazy bike that steered the opposite way you turn, while others just relaxed in the shade.
Then of course the delicious spit roast meal and desserts were enjoyed by all in the hall while Shane entertained us with some good country humour, and everyone went home with a prize. The 'Wanderers' took home the $200 cash prize for the best represented club – good on you guys!
Rod Squad would like to thank everyone for coming and helping us to enjoy a lovely day. Thanks too for those who did so much work to make the day such a success. God is good!